Class Information
Willow Martial Arts offers a
beginning class
and
advanced class
for all ages at the Kirkwood Community Center. The sessions run for three months and begin in January, April, July and September of each year.  Teaching through a community center allows the school to offer classes that are affordable for the

e

ntire family

.
Class instruction begins with a workout. Most of the exercises are shown at 2 or 3 levels of difficulty so can be performed by all ages and physical capabilities. Other class activities include walking drills, timing drills, self-defense, sparring, and forms. Competition is not mandatory, but is encouraged to reinforce the ideals taught in class such as good sportsmanship, self-confidence, and self-control.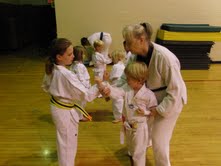 The summer session of classes are conducted like mini camps. Classes taught during the summer include breaking,  Judo, Taekwondo Olympic games night, and an in-house tournament. Guest instructors from other disciplines are invited to the class where they instruct in areas that are not covered in the normal weekly classes such as bo, tai chi, bokken, jujitsu, or muay tai.
Willow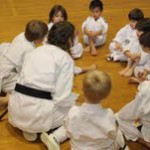 Martial Arts also offers two

children's classes

specially designed for 5-7 year olds. These one-hour classes are fast paced, exciting, and energized classes that teach children through fun activities. Whether going through an obstacle course for warm-up, reading a lesson on courtesy or perseverance, watching a video on how dinosaurs get their black belts, practicing kicks and punches on a 'Lil Dragon punching bag or a kick paddle, or learning to spar, these classes are designed to keep your child pumped up on Taekwondo.